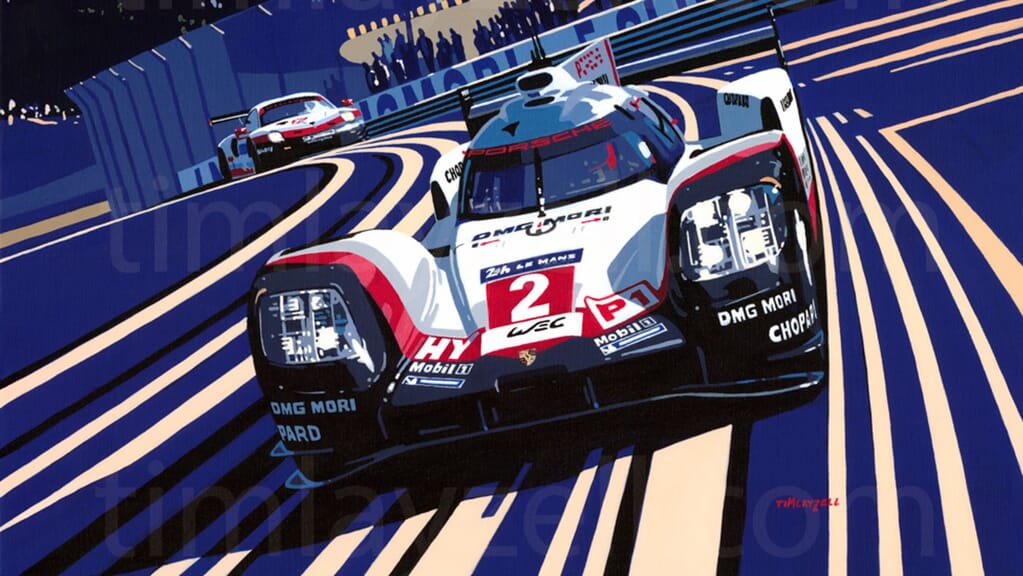 Here at Windrush classic car storage, we've been lucky enough to encounter some of the UK's most talented auto art creators over the years. Taking inspiration from all things four-wheeled, their works are as head-turning and technically impressive as anything hanging on the walls of Tate Modern.
Whether you're in the market for collectible car art, or just browsing, here are six of our favorite auto artists. Look out for examples of their work next time you visit our long term car storage facilities in London and the Cotswolds.
Speed Icons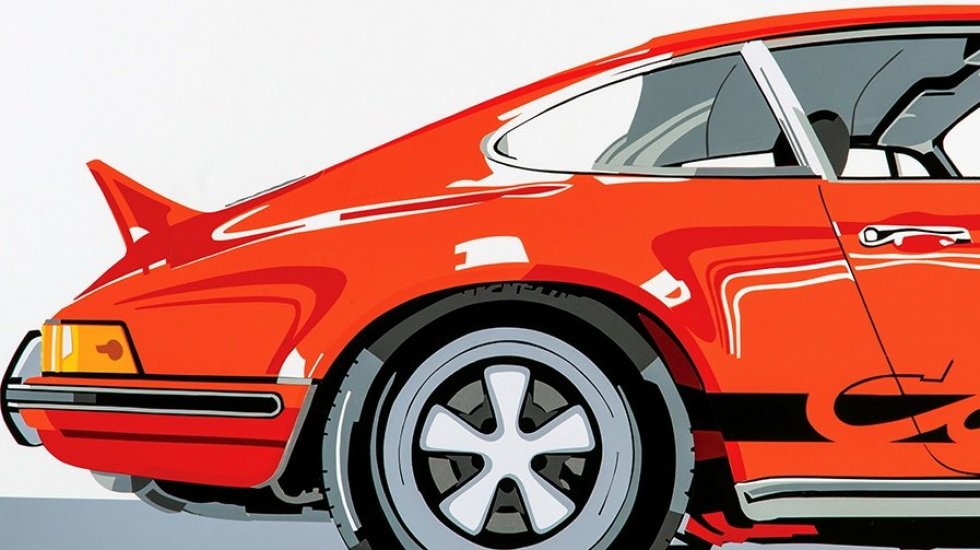 Joel Clark started out as a vinyl sticker-maker for race teams at Silverstone, and while this British artist went on to graduate from art college, worked at respected ad agencies and has earned kudos for his oil paintings, Speed Icons brings him full circle. "I've returned to the unique skill I learnt back at Silverstone, hand-cutting vinyl graphics for racing cars," he says. "But now I'm hand-cutting vinyl to create artworks of iconic racing cars and liveries."
With Joel setting out to recreate the blur of a car flashing past on a race track, the emphasis is on shapes, colours and patterns, rather than fine detail. Even so, creating each bespoke work is a painstaking process, demanding 30 hours of intense concentration, armed only with a scalpel, to cut out by hand the hundreds of hugely intricate colour shapes that make up the image.
Henry Falzon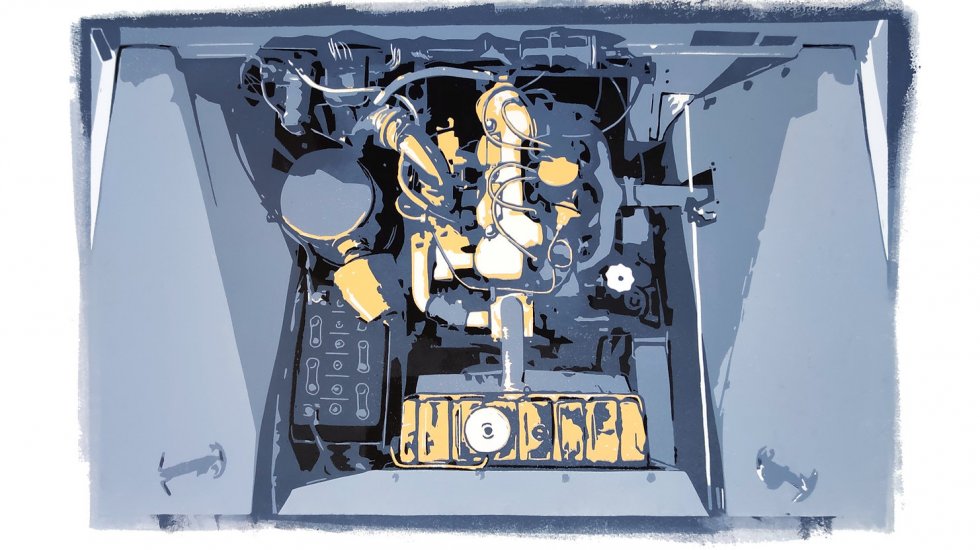 Based in Malta, Henry's goal is to "interpret the things I love", and his art runs the gamut from beach scenes to local cyclists, rendered in anything from charcoal to pastel. For our purposes, however, the standouts are the artist's hand-inked 4×4 reduction linocut prints, showcasing the mighty Land Rover.
Henry admits the linocut process is "laborious", and that no two artworks are identical. But the quality of his 100% cotton materials is unparalleled and the sheer detail in his work is extraordinary, with some of our favourite prints even offering a close-up of the Landy engine bay.
Tim Layzell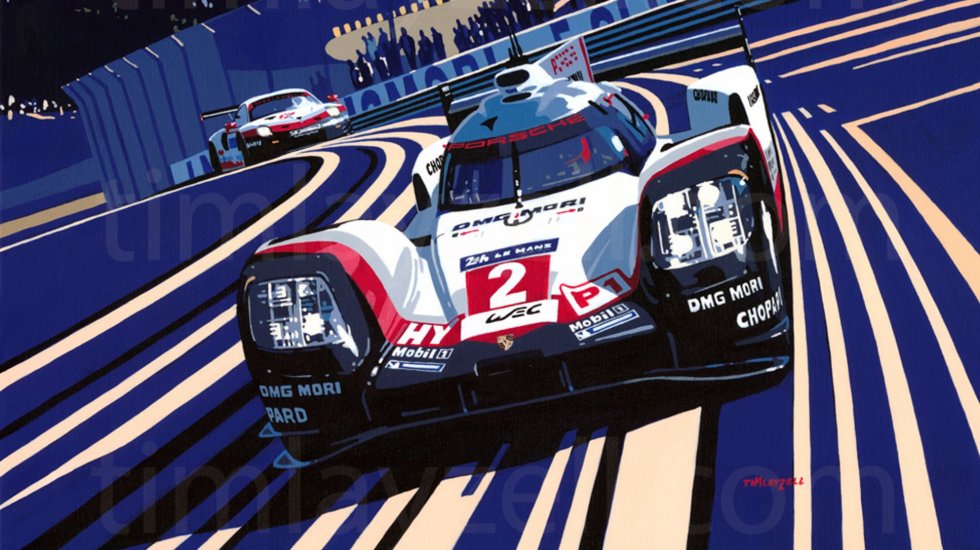 Having sketched his first Bugatti aged just three, Tim Layzell's career took off in 1995, when the 13-year-old won the British Racing Drivers Club's prestigious Young Motoring Artist Award. He hasn't looked back since, exhibiting his work everywhere from the Goodwood Revival to the Monaco Grand Prix.
Tim's passion for the golden age of motorsport tends to inform his work. With a particular focus on the '30s, he recreates historic encounters between Alfa Romeo and Bugatti, Mercedes and Auto Union, often on famed tracks like Donington and the Nürburgring. Inspired by the photography of the period, precision and realism are his calling cards – although he sometimes forks left into a thrilling pop art style that almost seems to be moving on your wall!
Popbangcolour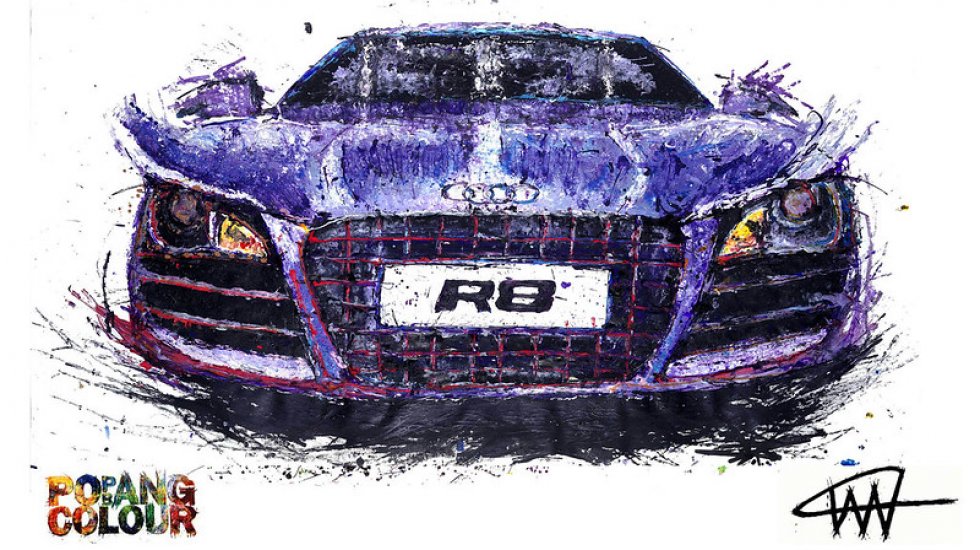 Few artists push the envelope like Ian Cook. Where others use a brush, the British painter relies on a fleet of remote control cars to skid across his canvases and create the pleasingly jagged representations of racing Minis and more.
Describing his work as "a friendly explosion of colour", Cook has showcased his unique brand of performance art at events like the Bicester Scrambles and London Motorshow, always watched by huge crowds. He's open to individual or corporate commissions, too, whether you choose his RC-rendered artwork or his equally ambitious continuous line drawings.
Road Race Rally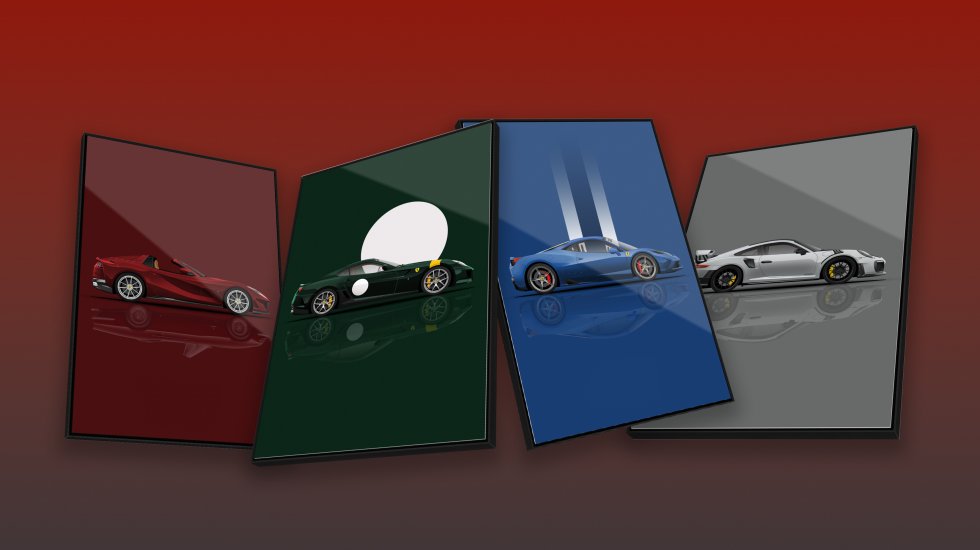 As champions of attention to detail, the Windrush classic car storage team salutes Road Race Rally for their equally fastidious approach. Whether it's a dream machine or the pride and joy of your personal collection, simply send over a selection of photos and your artist will recreate the vehicle in exacting detail, right down to the seat fabric and stitching.
Road Race Rally's flexible approach means it's even possible to add text or specify backgrounds, making these bespoke artworks – which each take around 70 hours and up to 2000 digital layers – the perfect personalised addition to your garage or office.
Geoff Bolam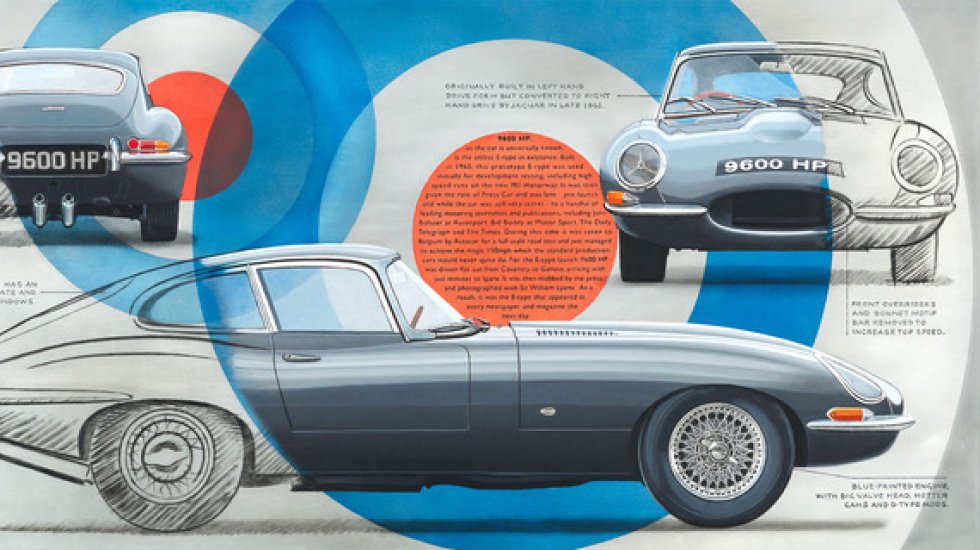 Inspired by art deco and the undulations of post-war sports cars, Geoff Bolam's brainwave was using oil paints on aluminium, rather than a traditional canvas. "These vehicles often had aluminium bodywork," he explains, "so it felt very appropriate and opened up lots of possibilities to use the metal as part of the composition and to introduce a sculptural quality to my work."
Aluminium is no easy option: the surface must first be etched with acids, then polished, sanded and brushed, while the painting and glazing process takes up to eight weeks. But with Bolam offering limited edition prints and open to individual commissions, this is some of the most collectible car art around.
Windrush classic car storage – keeping your pride and joy picture-perfect
Windrush long term car storage doesn't just look the part, with eye-catching auto art decorating our facilities in London and the Cotswolds. We go deeper than our rivals, too, offering luxury car storage service that sets the industry standard.
Starting with Windrush's renowned twelve-step induction process, we'll safeguard your car for the duration of its stay with a model-specific maintenance programme that leaves no stone unturned. Finally, when your stay is over, all it takes is a call to our prestige car storage team – and we'll make sure your vehicle is ready for you to turn the key.
Insist on Windrush for long term car storage that goes further. We're ready to hear from you on info@windrushcarstorage.co.uk
Here at Windrush classic car storage, we've been lucky enough to encounter some of the UK's most talented auto art creators over the years. Taking inspiration from all things four-wheeled, their works are as head-turning and technically impressive as anything hanging on the walls of Tate Modern. Whether you're in the market for collectible car art, or just browsing, here are six of our favorite auto artists. Look out for examples of their work next time you visit our long term car storage facilities in London and the Cotswolds. Speed Icons Joel Clark started out as a vinyl sticker-maker for race teams at Silverstone, and while this British artist went on to graduate from art college, worked at respected ad agencies and has earned kudos for his oil paintings, Speed Icons brings him full circle. "I've returned to the unique skill I learnt back at Silverstone, hand-cutting vinyl graphics for racing cars," he says. "But now I'm hand-cutting vinyl to create artworks of iconic racing cars and liveries." With Joel setting out to recreate the blur of a car flashing past on a race track, the emphasis is on shapes, colours and patterns, rather than fine detail. Even so, creating each bespoke work is a painstaking process, demanding 30 hours of intense concentration, armed only with a scalpel, to cut out by hand the hundreds of hugely intricate colour shapes that make up the image. Henry Falzon Based in Malta, Henry's goal is to "interpret the things I love", and his art runs the gamut from beach scenes to local cyclists, rendered in anything from charcoal to pastel. For our purposes, however, the standouts are the artist's hand-inked 4×4 reduction linocut prints, showcasing the mighty Land Rover. Henry admits the linocut process is "laborious", and that no two artworks are identical. But the quality of his 100% cotton materials is unparalleled and the sheer detail in his work is extraordinary, with some of our favourite prints even offering a close-up of the Landy engine bay. Tim Layzell Having sketched his first Bugatti aged just three, Tim Layzell's career took off in 1995, when the 13-year-old won the British Racing Drivers Club's prestigious Young Motoring Artist Award. He hasn't looked back since, exhibiting his work everywhere from the Goodwood Revival to the Monaco Grand Prix. Tim's passion for the golden age of motorsport tends to inform his work. With a particular focus on the '30s, he recreates historic encounters between Alfa Romeo and Bugatti, Mercedes and Auto Union, often on famed tracks like Donington and the Nürburgring. Inspired by the photography of the period, precision and realism are his calling cards – although he sometimes forks left into a thrilling pop art style that almost seems to be moving on your wall! Popbangcolour Few artists push the envelope like Ian Cook. Where others use a brush, the British painter relies on a fleet of remote control cars to skid across his canvases and create the pleasingly jagged representations of racing Minis and more. Describing his work as "a friendly explosion of colour", Cook has showcased his unique brand of performance art at events like the Bicester Scrambles and London Motorshow, always watched by huge crowds. He's open to individual or corporate commissions, too, whether you choose his RC-rendered artwork or his equally ambitious continuous line drawings. Road Race Rally As champions of attention to detail, the Windrush classic car storage team salutes Road Race Rally for their equally fastidious approach. Whether it's a dream machine or the pride and joy of your personal collection, simply send over a selection of photos and your artist will recreate the vehicle in exacting detail, right down to the seat fabric and stitching. Road Race Rally's flexible approach means it's even possible to add text or specify backgrounds, making these bespoke artworks – which each take around 70 hours and up to 2000 digital layers – the perfect personalised addition to your garage or office. Geoff Bolam Inspired by art deco and the undulations of post-war sports cars, Geoff Bolam's brainwave was using oil paints on aluminium, rather than a traditional canvas. "These vehicles often had aluminium bodywork," he explains, "so it felt very appropriate and opened up lots of possibilities to use the metal as part of the composition and to introduce a sculptural quality to my work." Aluminium is no easy option: the surface must first be etched with acids, then polished, sanded and brushed, while the painting and glazing process takes up to eight weeks. But with Bolam offering limited edition prints and open to individual commissions, this is some of the most collectible car art around. Windrush classic car storage – keeping your pride and joy picture-perfect Windrush long term car storage doesn't just look the part, with eye-catching auto art decorating our facilities in London and the Cotswolds. We go deeper than our rivals, too, offering luxury car storage service that sets the industry standard. Starting with Windrush's renowned twelve-step induction process, we'll safeguard your car for the duration of its stay with a model-specific maintenance programme that leaves no stone unturned. Finally, when your stay is over, all it takes is a call to our prestige car storage team – and we'll make sure your vehicle is ready for you to turn the key. Insist on Windrush for long term car storage that goes further. We're ready to hear from you on info@windrushcarstorage.co.uk