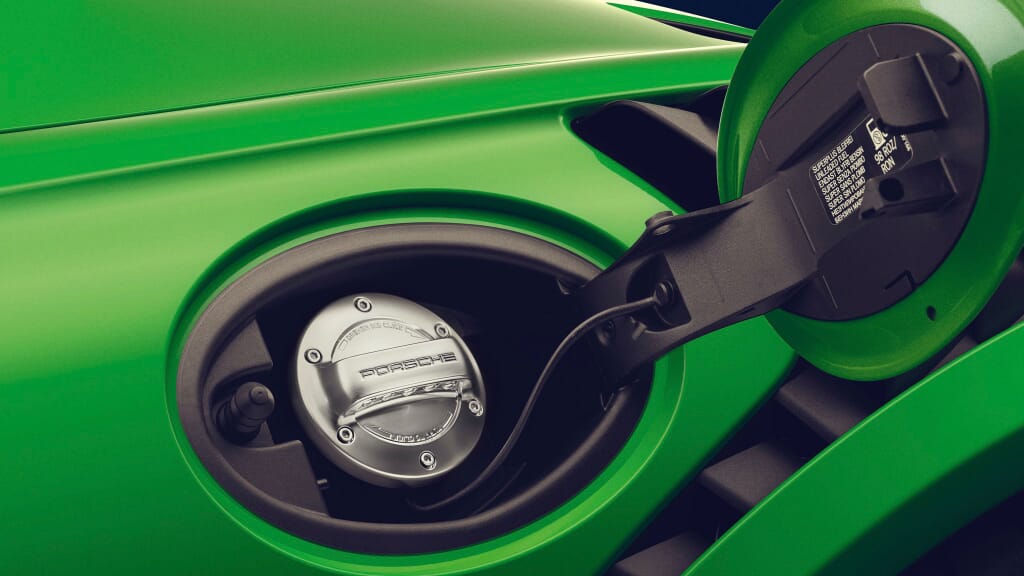 Fuelling is a vital part of Windrush's classic car storage service, and as such, we keep a close eye on developments in the world of synthetic fuel and what they mean for our clients.
Earlier this year, we took heart from Porsche's trials of its own self-developed synthetic fuel, designed to be compatible with unmodified combustion engines.
But with so many leading marques hard at work in this field, the positive headlines have kept coming all summer. If recent reports are to be believed, we're quietly hopeful that synthetic fuel can both deliver performance at the highest level and keep our beloved classics on the road, while cushioning the impact on the environment.
On Track
Back in June, we were intrigued by reports of the racing Jaguar E-Type that roared around the Goodwood circuit with no loss of performance, powered by a blend of standard petrol and specialist fuel from Sustain by Coryton (containing no ethanol and with added lead-free valve lubricant). "The test went well," said James Fraser of CKL Developments. "The car didn't miss a beat all day. We look forward to developing these fuel technologies further to support the whole classic car sector."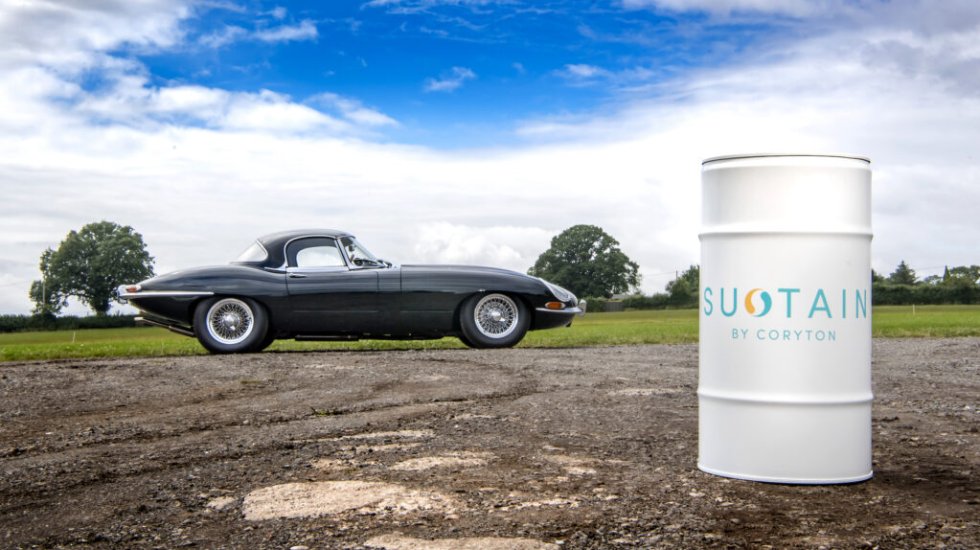 Enter Audi
The encouraging news for sustainable fuel continued into the summer. In August, it was exciting enough to get the official word that Audi is to join the Formula 1 grid by 2026. Just as notable, meanwhile, was confirmation that the marque's dedicated F1 powertrain – currently under construction in Neuberg, Germany – is to be powered by synthetic fuel (so getting the jump on a sector that hopes to be carbon-neutral by the end of the decade).
"With the new rules, now is the right time for us to get involved," said Audi AG chairman Markus Duesmann. "After all, Formula 1 and Audi both pursue clear sustainability goals."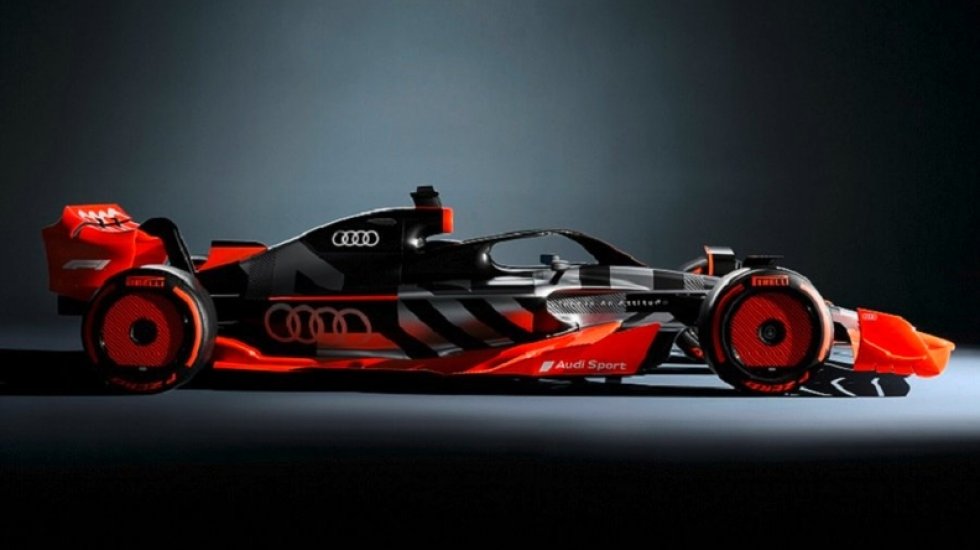 On The Road
The stellar performance of synthetic-fuelled cars on the track is all well and good – but what have been summer's biggest developments for owners of road-going classics? Perhaps the most heartening story concerned the 1965 4.2 Series 1 Jaguar E-Type roadster (used as a laboratory for parts specialist SNG Barratt), once again fuelled with a specialist blend from Coryton.
In a first drive feature for the Hagerty website, veteran motor journalist Colin Goodwin praised the Jag's "strong and light" performance while predicting a place for synthetic fuels in the mix going forward. "Even if sustainable fuel is always more expensive, using it will always be cheaper than the unthinkable act of throwing away an E-type's glorious straight-six engine and replacing it with a second hand Tesla electric motor."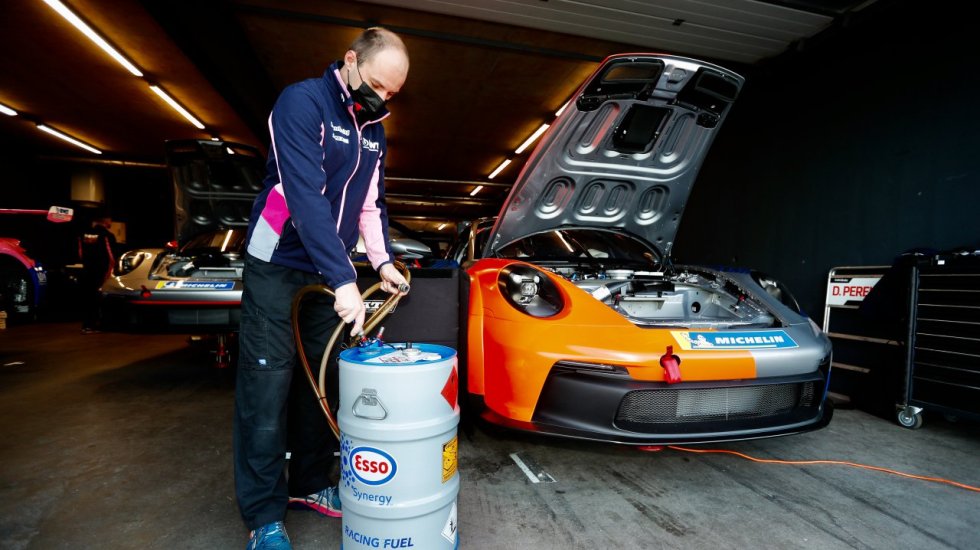 The best blend for classic car storage
Whatever happens with the fuelling of the future – from synthetic to electricity and hydrogen – Windrush will always offer the UK's most open-minded classic car storage solution. We'll support whatever fuel and technology is best for our customers, while ensuring we have the up-to-the-minute expertise at our prestige car storage facilities in central London and the Cotswolds.
Meanwhile, at Windrush, fuelling is just one strand of our long term car storage solution. From the industry-renowned twelve-stage induction process that factors in fluids, PSI and beyond, through to our ongoing maintenance programme, no UK classic car storage solution pays closer attention to detail.
From gleaming youngtimers to cherished oldtimer classic cars, every model and marque is welcome at Windrush. Get in touch with our long term car storage team on info@windrushcarstorage.co.uk
Fuelling is a vital part of Windrush's classic car storage service, and as such, we keep a close eye on developments in the world of synthetic fuel and what they mean for our clients. Earlier this year, we took heart from Porsche's trials of its own self-developed synthetic fuel, designed to be compatible with unmodified combustion engines. But with so many leading marques hard at work in this field, the positive headlines have kept coming all summer. If recent reports are to be believed, we're quietly hopeful that synthetic fuel can both deliver performance at the highest level and keep our beloved classics on the road, while cushioning the impact on the environment. On Track Back in June, we were intrigued by reports of the racing Jaguar E-Type that roared around the Goodwood circuit with no loss of performance, powered by a blend of standard petrol and specialist fuel from Sustain by Coryton (containing no ethanol and with added lead-free valve lubricant). "The test went well," said James Fraser of CKL Developments. "The car didn't miss a beat all day. We look forward to developing these fuel technologies further to support the whole classic car sector." Enter Audi The encouraging news for sustainable fuel continued into the summer. In August, it was exciting enough to get the official word that Audi is to join the Formula 1 grid by 2026. Just as notable, meanwhile, was confirmation that the marque's dedicated F1 powertrain – currently under construction in Neuberg, Germany – is to be powered by synthetic fuel (so getting the jump on a sector that hopes to be carbon-neutral by the end of the decade). "With the new rules, now is the right time for us to get involved," said Audi AG chairman Markus Duesmann. "After all, Formula 1 and Audi both pursue clear sustainability goals." On The Road The stellar performance of synthetic-fuelled cars on the track is all well and good – but what have been summer's biggest developments for owners of road-going classics? Perhaps the most heartening story concerned the 1965 4.2 Series 1 Jaguar E-Type roadster (used as a laboratory for parts specialist SNG Barratt), once again fuelled with a specialist blend from Coryton. In a first drive feature for the Hagerty website, veteran motor journalist Colin Goodwin praised the Jag's "strong and light" performance while predicting a place for synthetic fuels in the mix going forward. "Even if sustainable fuel is always more expensive, using it will always be cheaper than the unthinkable act of throwing away an E-type's glorious straight-six engine and replacing it with a second hand Tesla electric motor." The best blend for classic car storage Whatever happens with the fuelling of the future – from synthetic to electricity and hydrogen – Windrush will always offer the UK's most open-minded classic car storage solution. We'll support whatever fuel and technology is best for our customers, while ensuring we have the up-to-the-minute expertise at our prestige car storage facilities in central London and the Cotswolds. Meanwhile, at Windrush, fuelling is just one strand of our long term car storage solution. From the industry-renowned twelve-stage induction process that factors in fluids, PSI and beyond, through to our ongoing maintenance programme, no UK classic car storage solution pays closer attention to detail. From gleaming youngtimers to cherished oldtimer classic cars, every model and marque is welcome at Windrush. Get in touch with our long term car storage team on info@windrushcarstorage.co.uk