Last year, automotive data experts Hagerty tracked more than 12,500 UK and European auction results, and the numbers were huge: a total of £310.8 million in classic and collector vehicles sold, including 14 for over £1m, a result of continued confidence in the market after the brief pause in early 2020.
At Windrush, our classic car storage team keeps a close eye on market trends and what it could mean for our clients. Here's our selection of 2021's most influential global classic vehicle sales.
Most valuable: 1995 McLaren F1, £15.5m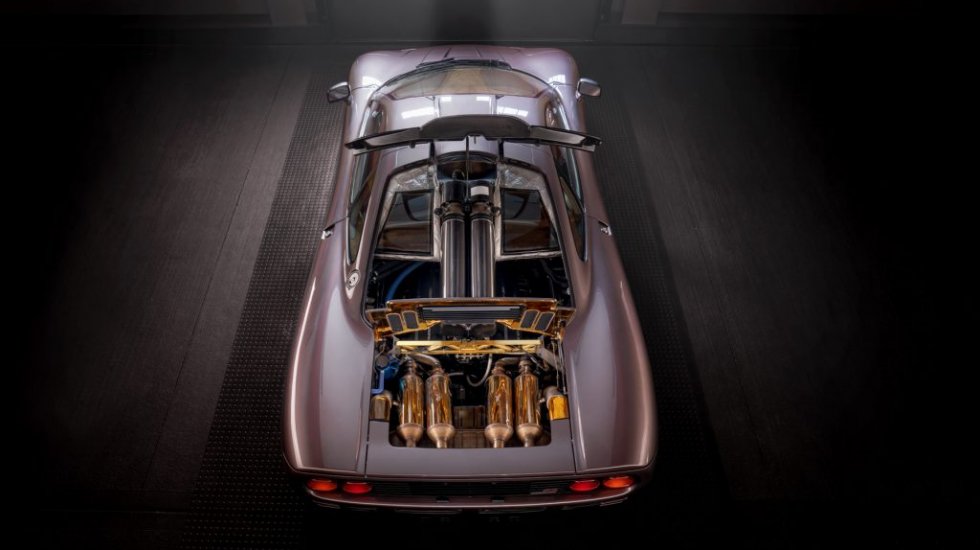 The biggest sale of 2021 was this 1995 McLaren F1 sold by Gooding & Company at Pebble Beach. The final result was $20,465,000 (£15.5m). While there have been private sales that have been higher, this was a world record price for an F1 at public auction.
Formula One royalty: 2010 McLaren MP4-25, £4.73m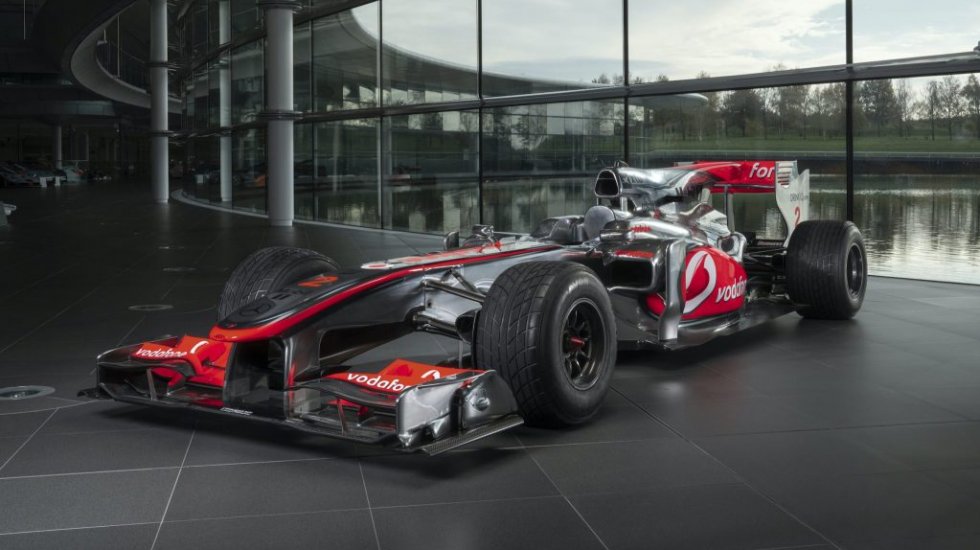 The first of Lewis Hamilton's F1 race and Grand Prix-winning cars ever offered to the public. Sold by RM Sotheby's at a special, single-lot auction at the British Grand Prix, where it sold for £4.73m.
Japanese superstar: 1998 Subaru Impreza STi 22B, $317,555 (£240,000)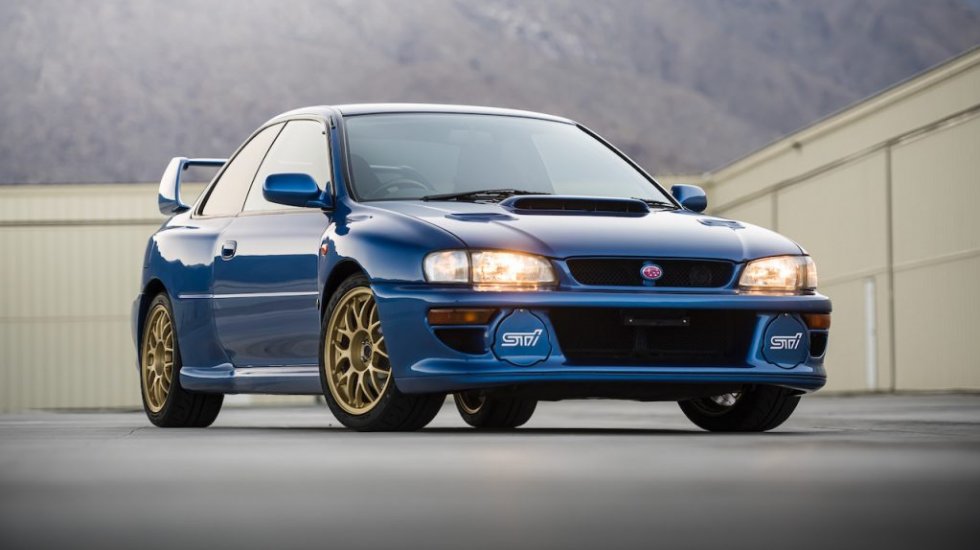 Japanese domestic market car values have been rising in America and this 1998 Subaru STi 22B sold for a record-breaking $317,555 (£240,000) via Bring A Trailer.
Wrecked Exotic: 1960 Jaguar XK150 S Drophead, £90,000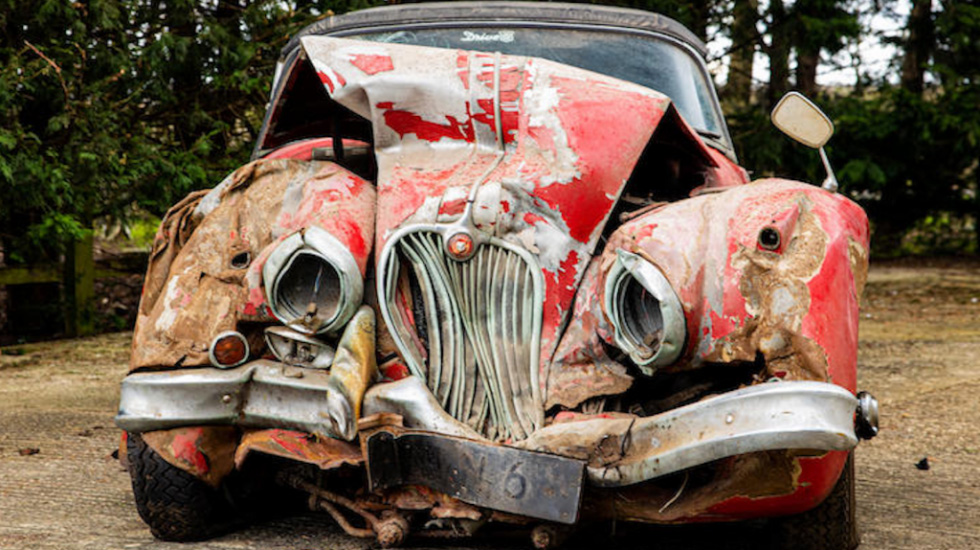 This car, offered by Bonhams MPH in May, was crashed by its previous owner in 1996. And yet, someone paid a very robust £90,000 for it, crazy when a restored example is valued at just over £100k.
Group B hero: 1988 Audi Sport Quattro, €2.017M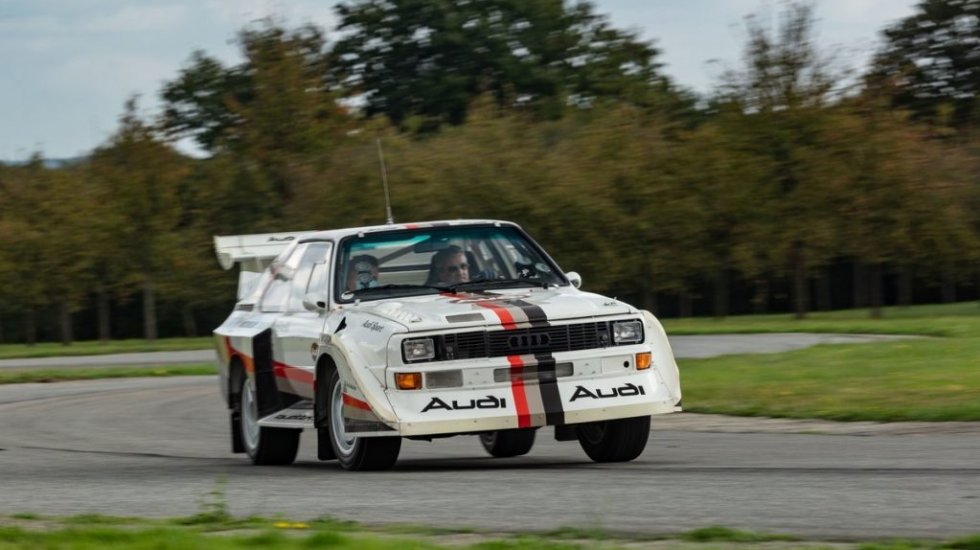 Selling for €700,000 over its €1M to €1.3M pre-sale estimate, this Ur Quattro sold for three times the top Hagerty Price Guide figure of £408,000, setting a new global benchmark in the process.
The forgotten supercar: 1993 Jaguar XJ220, £460,000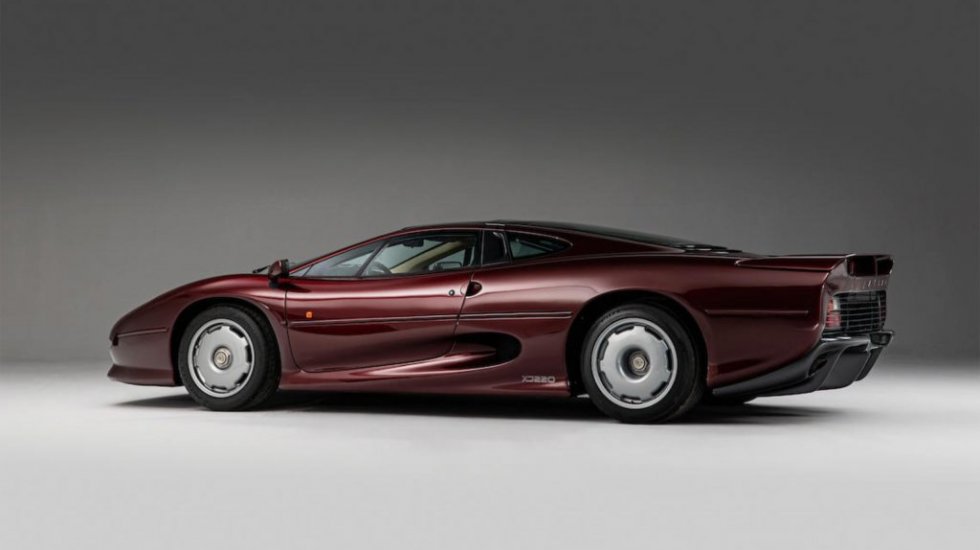 An exceptional XJ220 with just 385 miles on the clock was sold at the Bonhams Goodwood Revival sale and exceeded the previous top value of £445,000. It's a new record for a public auction sale – and this cult Jag is welcome at Windrush long term car storage anytime.
One royal owner: 1981 Ford Escort 1.6 Ghia, £52,640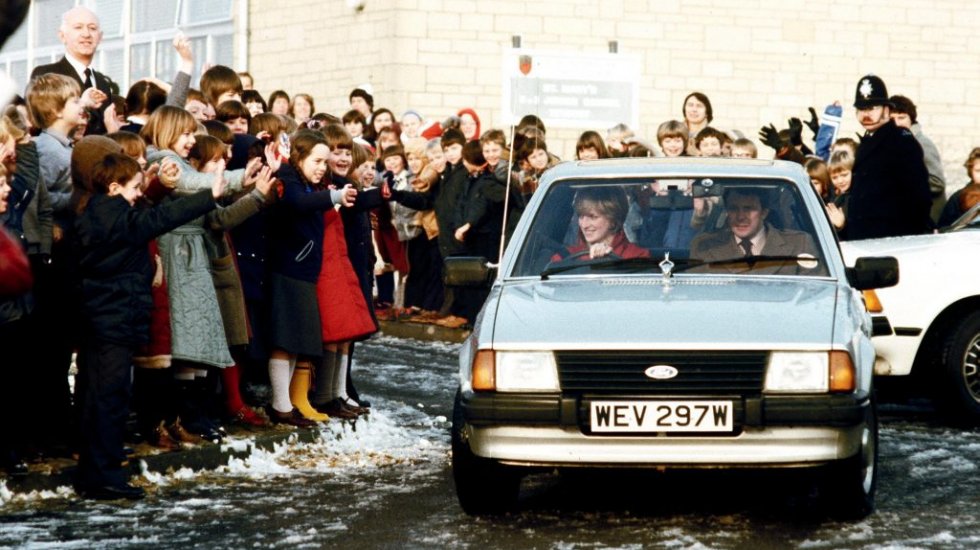 Examples of the third-generation Ford Escort have sold for more than £50,000 in the past, but they have been sporting models such as the RS Turbo. This 83,000-mile, 1.6 Ghia, offered by Reeman Dansie, was given as an engagement present by Prince Charles to the then-Lady Diana Spencer, and fetched around ten times what Hagerty expects a very good example to reach.
Online landmark: Ferrari F40, £1,000,500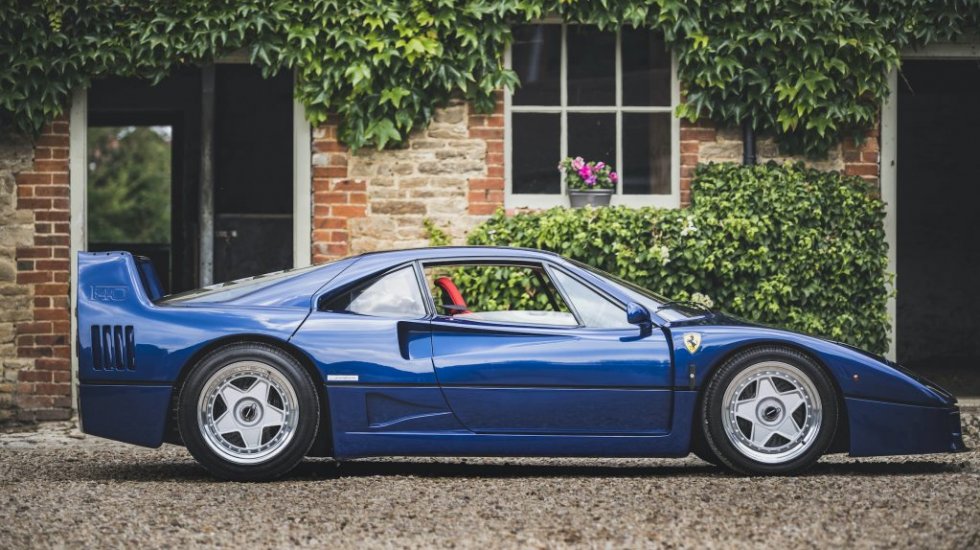 The Market's July sale of 'F40 BLU', a 1989 Ferrari F40, for £1,000,500, was the first time a car sold for over £1m in a dedicated UK online auction. Interestingly, it lacked the originality usually demanded of such top cars, having been painted in Porsche Aqua Blue.
Our classic car storage team also noticed two more exceptional examples sold in the US at Monterey in August, one for $2.89M (Gooding and Co) and another for $2.42m (RM Sotheby's), reinforcing the F40's position as a key collectable car in the present climate.
Restorer's dream: 1982 Lamborghini Countach LP500S, £257,600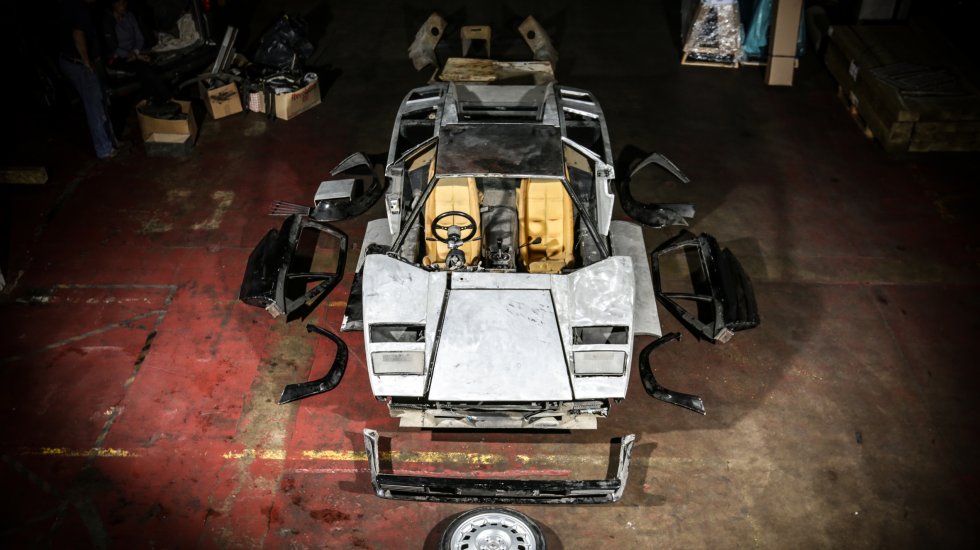 A supercar in component parts and in urgent need of saving, yet this 1982 Lamborghini Countach LP 500S was sold by Historics in September for £257,600 – well over its top £180,000 estimate. This one was an ultra-rare right-hand drive example, one of just 37 made. Hagerty claim a restored car is worth £334,000, not giving the new owner too much leeway for a full-cost restoration, but it's rare for buyers in this part of the market to be presented with a blank canvas to restore to their own specification.
Market overview of 2021
The collector car market grew in 2021, and it will keep growing because of who is driving the growth. The market continues to see more and more enthusiasts born after 1964 joining the fray. Gen Xers, millennials, and Gen Zers now constitute the majority of people calling Hagerty for quotes on collector car insurance, and that majority continues to grow stronger. Much of this shift is explained by enthusiasts in their 40s and 50s entering their peak earning years, but even twentysomethings are making their presence felt.
The generation game
As we've seen first-hand at Windrush classic car storage, the entrance of younger collectors doesn't require the exodus of older ones. Baby boomers remain highly active in the market and continue to dominate its upper echelons. For the foreseeable future, that means more enthusiasts will be chasing a widening subset of cars they consider collectible. That, more than any record sale or change in the economic winds, creates an optimistic feeling about the state of the collector car market in 2022 and well beyond.
Year of the horse
The Ferrari F40 has had a stratospheric year. New world records for the model have been set, median auction sales prices have risen by over 50 percent in the past 12 months, and every single F40 offered at public auction sold. Digital auctions rise and rise with huge sums being bid from homes and offices, rather than auction halls. Rules around special new cars from the late ICE period are changing, and the words "instantly collectible" were no longer simply hyperbole. Last August, as you just read, a brown-on-brown 1995 McLaren F1  sold for $20,465,000 at Gooding & Company's Monterey sale. Yet, despite all this, it is worth remembering that a classic car is worth precisely as much as someone is willing to pay for it. It will be an exciting year.
Long term car storage for your auction-bought classic
The car auction market is notoriously prone to flux. But whether you're a buyer or seller, an eternal truth is that keeping your vehicle in optimum condition is a cornerstone of maximising ROI – and that all starts with the right long term car storage.
With Windrush's twin luxury car storage facilities situated in Central London and the Cotswolds, we're within reach of many of the UK's most respected auction houses. Once you arrive, we'll lead your vehicle through the famous twelve-step induction programme that sets in motion our long term car storage solution, before scheduling the ongoing checks and maintenance that will keep your vehicle fighting fit for the duration of your stay. No other prestige car storage solution offers greater attention to detail.
And remember: with both our classic car storage facilities now recognised as official HMRC Customs Warehouses (letting you delay payable duty and VAT on vehicle imports indefinitely), we're the only choice for investment vehicles.
The classic car storage experts at our London and Cotwolds facilities are ready to help you. Get in touch on info@windrushcarstorage.co.uk
Last year, automotive data experts Hagerty tracked more than 12,500 UK and European auction results, and the numbers were huge: a total of £310.8 million in classic and collector vehicles sold, including 14 for over £1m, a result of continued confidence in the market after the brief pause in early 2020. At Windrush, our classic car storage team keeps a close eye on market trends and what it could mean for our clients. Here's our selection of 2021's most influential global classic vehicle sales. Most valuable: 1995 McLaren F1, £15.5m The biggest sale of 2021 was this 1995 McLaren F1 sold by Gooding & Company at Pebble Beach. The final result was $20,465,000 (£15.5m). While there have been private sales that have been higher, this was a world record price for an F1 at public auction. Formula One royalty: 2010 McLaren MP4-25, £4.73m The first of Lewis Hamilton's F1 race and Grand Prix-winning cars ever offered to the public. Sold by RM Sotheby's at a special, single-lot auction at the British Grand Prix, where it sold for £4.73m. Japanese superstar: 1998 Subaru Impreza STi 22B, $317,555 (£240,000) Japanese domestic market car values have been rising in America and this 1998 Subaru STi 22B sold for a record-breaking $317,555 (£240,000) via Bring A Trailer. Wrecked Exotic: 1960 Jaguar XK150 S Drophead, £90,000 This car, offered by Bonhams MPH in May, was crashed by its previous owner in 1996. And yet, someone paid a very robust £90,000 for it, crazy when a restored example is valued at just over £100k. Group B hero: 1988 Audi Sport Quattro, €2.017M Selling for €700,000 over its €1M to €1.3M pre-sale estimate, this Ur Quattro sold for three times the top Hagerty Price Guide figure of £408,000, setting a new global benchmark in the process. The forgotten supercar: 1993 Jaguar XJ220, £460,000 An exceptional XJ220 with just 385 miles on the clock was sold at the Bonhams Goodwood Revival sale and exceeded the previous top value of £445,000. It's a new record for a public auction sale – and this cult Jag is welcome at Windrush long term car storage anytime. One royal owner: 1981 Ford Escort 1.6 Ghia, £52,640 Examples of the third-generation Ford Escort have sold for more than £50,000 in the past, but they have been sporting models such as the RS Turbo. This 83,000-mile, 1.6 Ghia, offered by Reeman Dansie, was given as an engagement present by Prince Charles to the then-Lady Diana Spencer, and fetched around ten times what Hagerty expects a very good example to reach. Online landmark: Ferrari F40, £1,000,500 The Market's July sale of 'F40 BLU', a 1989 Ferrari F40, for £1,000,500, was the first time a car sold for over £1m in a dedicated UK online auction. Interestingly, it lacked the originality usually demanded of such top cars, having been painted in Porsche Aqua Blue. Our classic car storage team also noticed two more exceptional examples sold in the US at Monterey in August, one for $2.89M (Gooding and Co) and another for $2.42m (RM Sotheby's), reinforcing the F40's position as a key collectable car in the present climate. Restorer's dream: 1982 Lamborghini Countach LP500S, £257,600 A supercar in component parts and in urgent need of saving, yet this 1982 Lamborghini Countach LP 500S was sold by Historics in September for £257,600 – well over its top £180,000 estimate. This one was an ultra-rare right-hand drive example, one of just 37 made. Hagerty claim a restored car is worth £334,000, not giving the new owner too much leeway for a full-cost restoration, but it's rare for buyers in this part of the market to be presented with a blank canvas to restore to their own specification. Market overview of 2021 The collector car market grew in 2021, and it will keep growing because of who is driving the growth. The market continues to see more and more enthusiasts born after 1964 joining the fray. Gen Xers, millennials, and Gen Zers now constitute the majority of people calling Hagerty for quotes on collector car insurance, and that majority continues to grow stronger. Much of this shift is explained by enthusiasts in their 40s and 50s entering their peak earning years, but even twentysomethings are making their presence felt. The generation game As we've seen first-hand at Windrush classic car storage, the entrance of younger collectors doesn't require the exodus of older ones. Baby boomers remain highly active in the market and continue to dominate its upper echelons. For the foreseeable future, that means more enthusiasts will be chasing a widening subset of cars they consider collectible. That, more than any record sale or change in the economic winds, creates an optimistic feeling about the state of the collector car market in 2022 and well beyond. Year of the horse The Ferrari F40 has had a stratospheric year. New world records for the model have been set, median auction sales prices have risen by over 50 percent in the past 12 months, and every single F40 offered at public auction sold. Digital auctions rise and rise with huge sums being bid from homes and offices, rather than auction halls. Rules around special new cars from the late ICE period are changing, and the words "instantly collectible" were no longer simply hyperbole. Last August, as you just read, a brown-on-brown 1995 McLaren F1  sold for $20,465,000 at Gooding & Company's Monterey sale. Yet, despite all this, it is worth remembering that a classic car is worth precisely as much as someone is willing to pay for it. It will be an exciting year. Long term car storage for your auction-bought classic The car auction market is notoriously prone to flux. But whether you're a buyer or seller, an eternal truth is that keeping your vehicle in optimum condition is a cornerstone of maximising ROI – and that all starts with the right long term car storage. With Windrush's twin luxury car storage facilities situated in Central London and the Cotswolds, we're within reach of many of the UK's most respected auction houses. Once you arrive, we'll lead your vehicle through the famous twelve-step induction programme that sets in motion our long term car storage solution, before scheduling the ongoing checks and maintenance that will keep your vehicle fighting fit for the duration of your stay. No other prestige car storage solution offers greater attention to detail. And remember: with both our classic car storage facilities now recognised as official HMRC Customs Warehouses (letting you delay payable duty and VAT on vehicle imports indefinitely), we're the only choice for investment vehicles. The classic car storage experts at our London and Cotwolds facilities are ready to help you. Get in touch on info@windrushcarstorage.co.uk