There's just something about cars and coffee that fits. Sometimes, we'll opt for going solo, finding the perfect sunset, then leaning back on the bonnet, sipping a flask. Other times, we'll drop in at one of our favourite coffee stops across the UK, blowing the froth off a latte while catching up with old faces.
Of course, there are countless generic coffee chains on every motorway. But in this countdown, Windrush's classic car storage team picks out eleven great independents that give a particularly warm welcome to the motoring community, going the extra mile with themed décor, enthusiast events and automobile displays.
Caffeine And Machine, Ettington, Warwickshire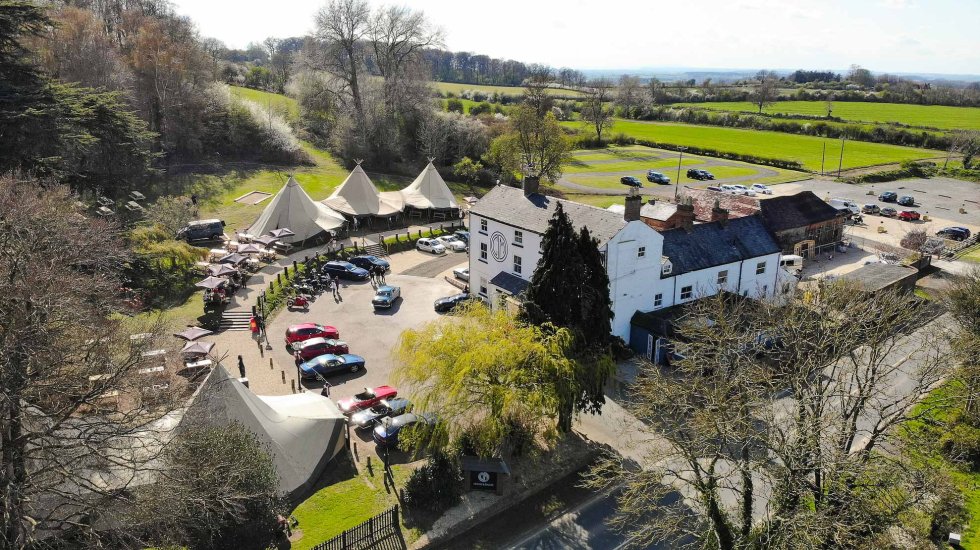 Self-described as a "destination for those who appreciate moving things", Caffeine And Machine includes a coffee house, licensed bar and restaurant, boutique b&b and living art gallery – it's more of a shrine to motoring and gastronomy than a half-hour stop-off.
https://caffeineandmachine.com/
Podium Place, Newbury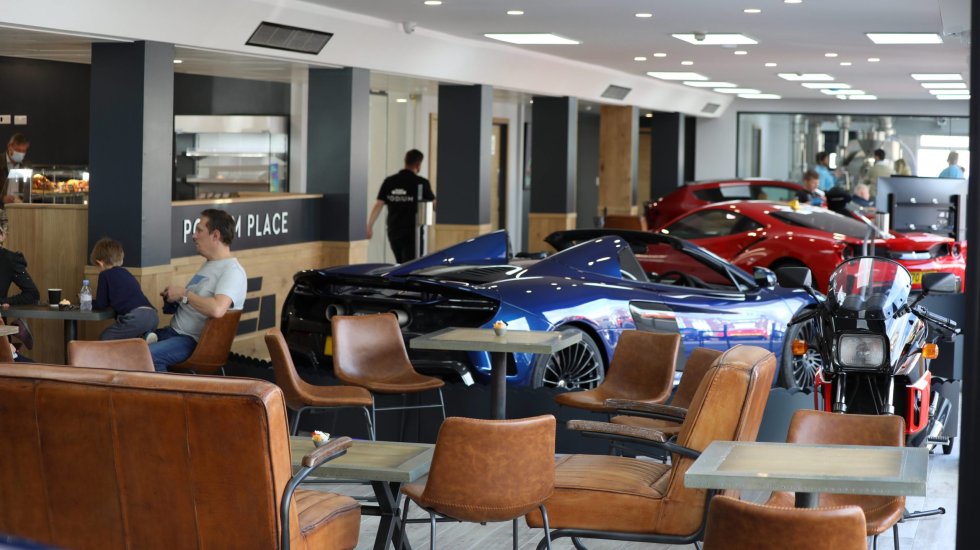 The aroma of artisan coffee greets you as you pull into Podium Place, with a team of Per'La speciality roasters responsible for one of the best cups in the South East. The biggest draw, though, is sipping said coffee amongst a fleet of aspirational supercars, from rare Ferraris to limited-edition Aston Martins.
Baffle Haus, Pontypool, Wales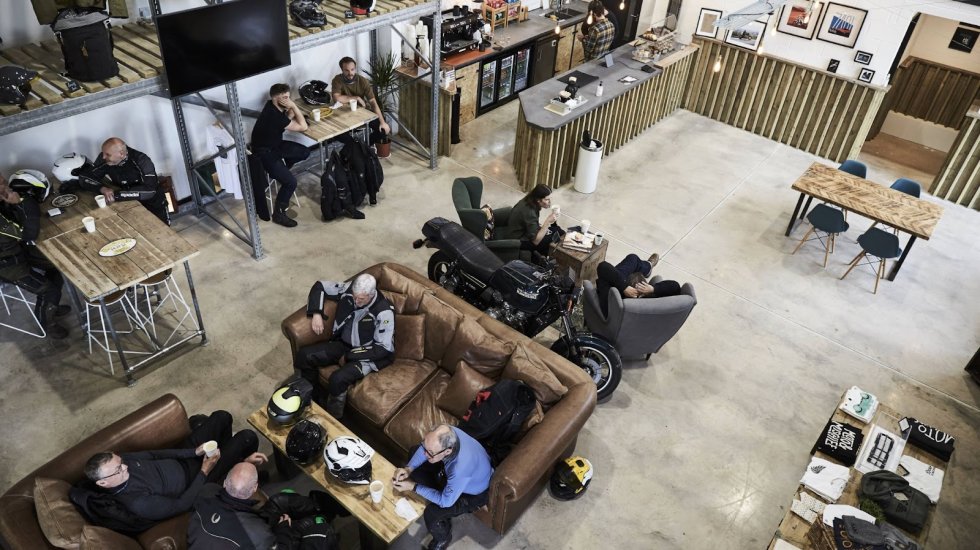 Painted onto the wall of Baffle Haus is the 'Share The Ride' mantra that this Pontypool café lives by. Best-known as a biker hub – but equally welcoming to anyone on wheels – you'll fuel up with an americano or panini while browsing the motoring memorabilia, and perhaps even pick up some new leathers from the adjoining clothing shop.
www.baffleculture.com/bafflehaus
The Carding Shed, Holmfirth, West Yorkshire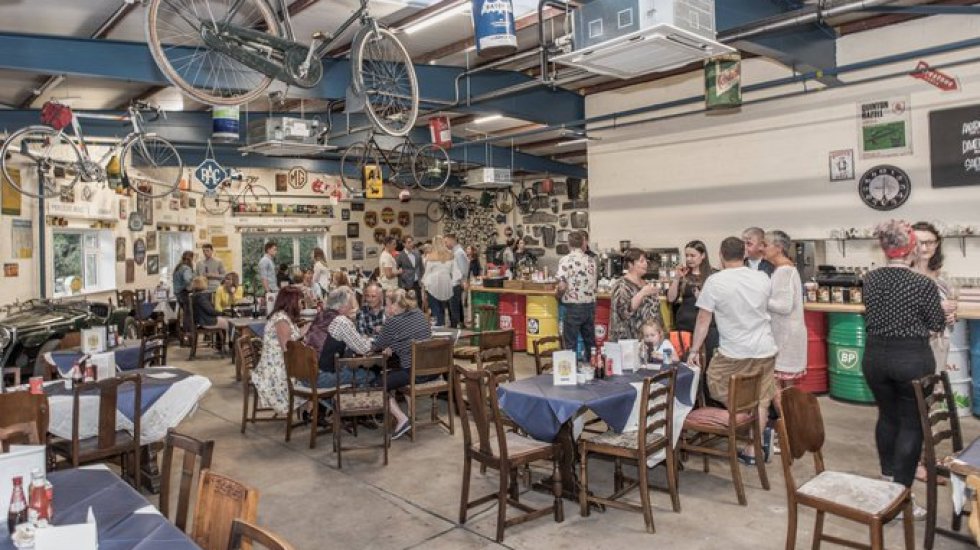 Not just a coffee stop but a veritable time machine, this former Yorkshire mill serves its brews in traditional china cups and completes the Goodwood Revival vibe with a classic car display, including vintage Mercedes and more.
Gilks Garage, Kineton, Warwickshire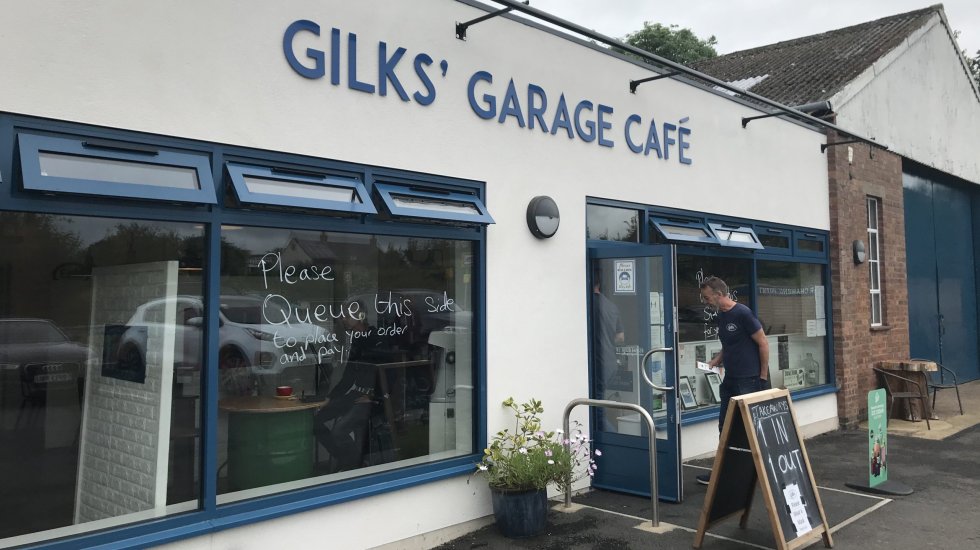 Don't mistake Gilks for a gimmicky themed café. This genuinely retro stop-off is authentic to the bone, still run by the family who manned the pumps back in the 1950s. Even so, the menu has moved with the times: try the Full Service Pizza or Mighty Mechanic Burger.
Duke Of London, Brentford, West London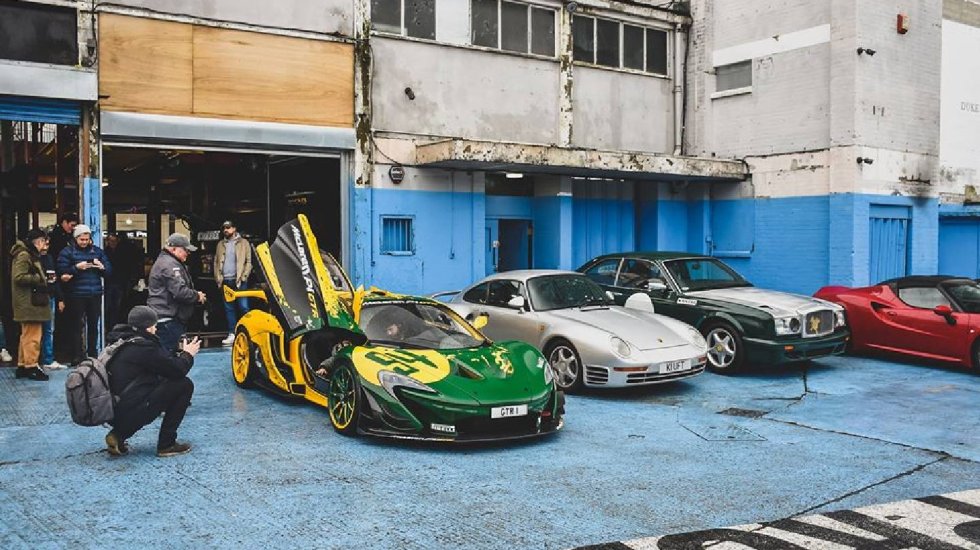 Founded in 2015 by Merlin McCormack, coffee is just the start at this classic and supercar hub – you'll also find car sales, restoration, servicing, detailing and more. For those who run on heavier fuel, the onsite Brewery Tap Pub and Santa Maria Pizzeria – voted London's best – are a must.
The Motorist, Sherburn In Elmet, North Yorkshire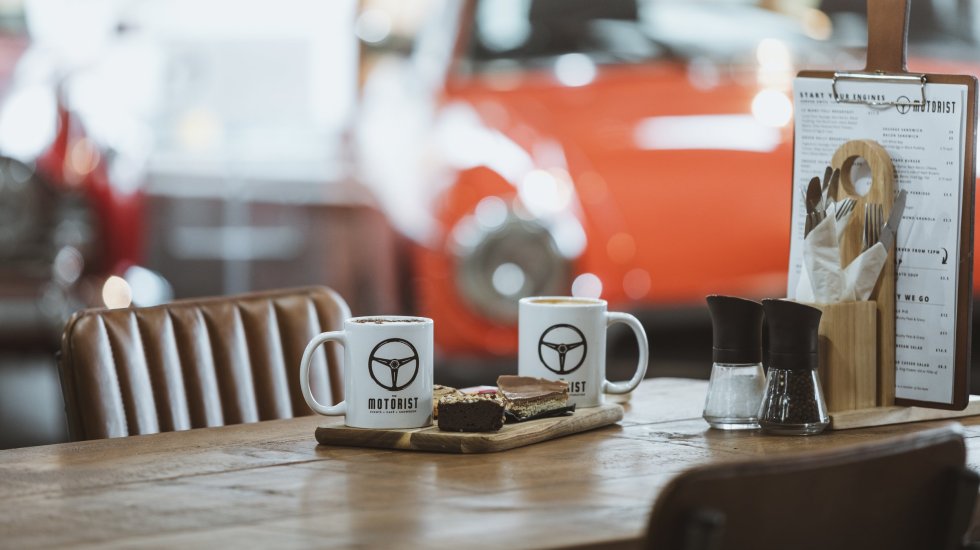 This stylish hub for all things auto offers both the Arnage Restaurant (named after the famous corner on the Le Mans circuit), and the Motorist Café and Showroom (where you can pit for coffee and rocky road, surrounded by a lineup of immaculate vintage cars).
Ace Café, Stonebridge, London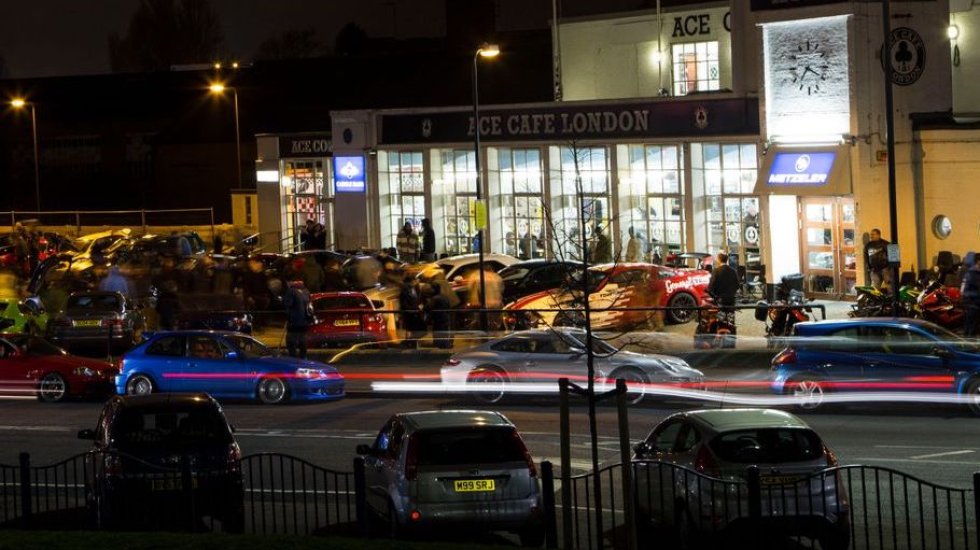 Founded in 1938 – and now with outposts across the globe – the original Ace is arguably the world's most famous motor café. A mecca for scooter-riding mods in the Sixties, rock 'n' roll remains in the Ace's DNA, and while browsing the menu, also keep an eye out for upcoming gigs.
NY500, Pickering, North Yorkshire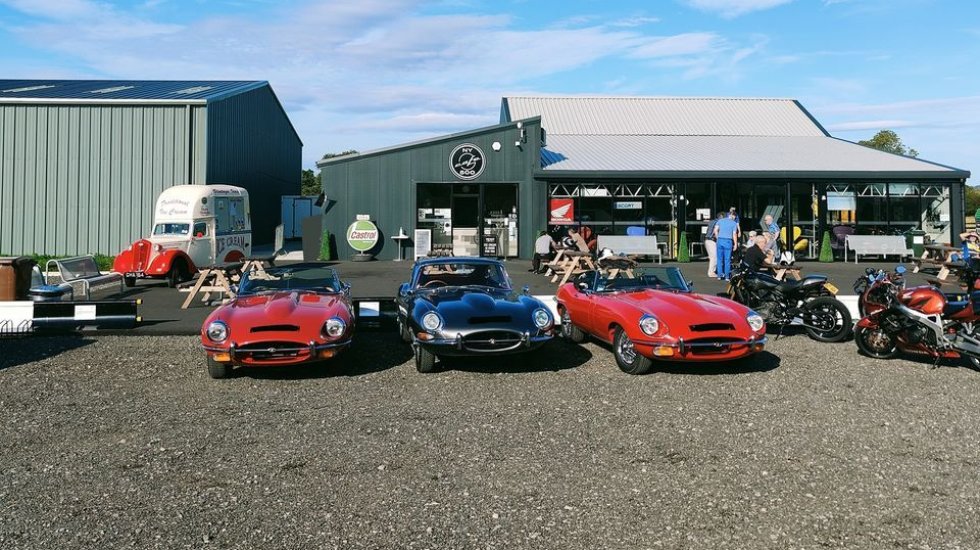 You might come to NY500 for the SpeedFest 22 event, but you'll return for one of Yorkshire's best no-nonsense cafés, whose Bangkok Bad Boy Burger is the stuff of local legend.
Bike Shed, Hackney, London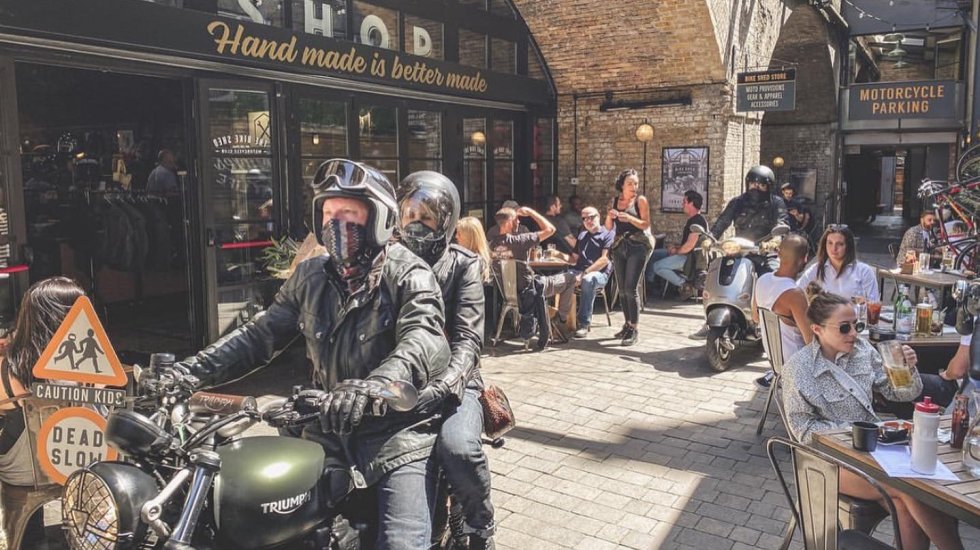 In a digital world, Bike Shed stands apart with its proud "analogue" ethos, inviting all-comers to watch the bikes rumble past, strike up a conversation with a fellow enthusiast or cheer on the MotoGP in a dedicated screening room beneath the atmospheric Victorian arches.
Recharge and return to Windrush classic car storage
Wherever you roam, come back refreshed to Windrush classic car storage. We're the most trusted name in luxury car storage, for reasons that become clear when you arrive at our state-of-the-art facilities in Central London and the Cotswolds.
Windrush's long term car storage service begins with our pace-setting twelve-step induction process. But when it comes to your pride and joy, our attention to detail never ends. Whatever the duration of your stay, we'll devise an ongoing maintenance programme for your model – all part of a luxury car storage service whose reputation precedes it.
The Windrush classic car storage team would love to tell you more over coffee. Drop us a line on info@windrushcarstorage.co.uk
There's just something about cars and coffee that fits. Sometimes, we'll opt for going solo, finding the perfect sunset, then leaning back on the bonnet, sipping a flask. Other times, we'll drop in at one of our favourite coffee stops across the UK, blowing the froth off a latte while catching up with old faces. Of course, there are countless generic coffee chains on every motorway. But in this countdown, Windrush's classic car storage team picks out eleven great independents that give a particularly warm welcome to the motoring community, going the extra mile with themed décor, enthusiast events and automobile displays. Caffeine And Machine, Ettington, Warwickshire Self-described as a "destination for those who appreciate moving things", Caffeine And Machine includes a coffee house, licensed bar and restaurant, boutique b&b and living art gallery – it's more of a shrine to motoring and gastronomy than a half-hour stop-off. https://caffeineandmachine.com/ Podium Place, Newbury The aroma of artisan coffee greets you as you pull into Podium Place, with a team of Per'La speciality roasters responsible for one of the best cups in the South East. The biggest draw, though, is sipping said coffee amongst a fleet of aspirational supercars, from rare Ferraris to limited-edition Aston Martins. www.podiumplace.co.uk Baffle Haus, Pontypool, Wales Painted onto the wall of Baffle Haus is the 'Share The Ride' mantra that this Pontypool café lives by. Best-known as a biker hub – but equally welcoming to anyone on wheels – you'll fuel up with an americano or panini while browsing the motoring memorabilia, and perhaps even pick up some new leathers from the adjoining clothing shop. www.baffleculture.com/bafflehaus The Carding Shed, Holmfirth, West Yorkshire Not just a coffee stop but a veritable time machine, this former Yorkshire mill serves its brews in traditional china cups and completes the Goodwood Revival vibe with a classic car display, including vintage Mercedes and more. www.thecardingshed.co.uk Gilks Garage, Kineton, Warwickshire Don't mistake Gilks for a gimmicky themed café. This genuinely retro stop-off is authentic to the bone, still run by the family who manned the pumps back in the 1950s. Even so, the menu has moved with the times: try the Full Service Pizza or Mighty Mechanic Burger. www.gilksgaragecafe.com Duke Of London, Brentford, West London Founded in 2015 by Merlin McCormack, coffee is just the start at this classic and supercar hub – you'll also find car sales, restoration, servicing, detailing and more. For those who run on heavier fuel, the onsite Brewery Tap Pub and Santa Maria Pizzeria – voted London's best – are a must. www.dukeoflondon.co.uk The Motorist, Sherburn In Elmet, North Yorkshire This stylish hub for all things auto offers both the Arnage Restaurant (named after the famous corner on the Le Mans circuit), and the Motorist Café and Showroom (where you can pit for coffee and rocky road, surrounded by a lineup of immaculate vintage cars). www.themotorist.com Ace Café, Stonebridge, London Founded in 1938 – and now with outposts across the globe – the original Ace is arguably the world's most famous motor café. A mecca for scooter-riding mods in the Sixties, rock 'n' roll remains in the Ace's DNA, and while browsing the menu, also keep an eye out for upcoming gigs. https://london.acecafe.com/ NY500, Pickering, North Yorkshire You might come to NY500 for the SpeedFest 22 event, but you'll return for one of Yorkshire's best no-nonsense cafés, whose Bangkok Bad Boy Burger is the stuff of local legend. www.ny500.co.uk Bike Shed, Hackney, London In a digital world, Bike Shed stands apart with its proud "analogue" ethos, inviting all-comers to watch the bikes rumble past, strike up a conversation with a fellow enthusiast or cheer on the MotoGP in a dedicated screening room beneath the atmospheric Victorian arches. https://bikeshedmoto.co.uk/ Recharge and return to Windrush classic car storage Wherever you roam, come back refreshed to Windrush classic car storage. We're the most trusted name in luxury car storage, for reasons that become clear when you arrive at our state-of-the-art facilities in Central London and the Cotswolds. Windrush's long term car storage service begins with our pace-setting twelve-step induction process. But when it comes to your pride and joy, our attention to detail never ends. Whatever the duration of your stay, we'll devise an ongoing maintenance programme for your model – all part of a luxury car storage service whose reputation precedes it. The Windrush classic car storage team would love to tell you more over coffee. Drop us a line on info@windrushcarstorage.co.uk